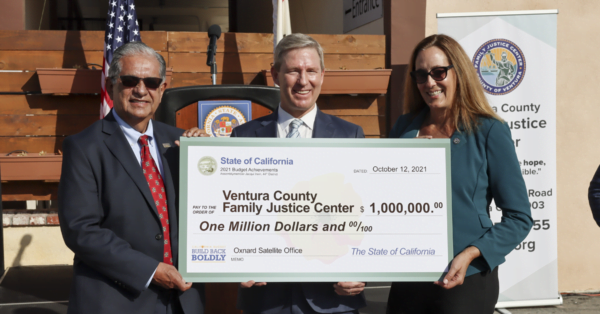 Date
Nov 05 2021
Expired!
November 5, 2021 – Ventura County Family Justice Center Celebrates $1 Million for Expansion
With the support of Assemblymember Jacqui Irwin, $1 million was secured in the 2021-2022 State Budget for our new satellite office coming to Oxnard. Over a third of the victims served by the Family Justice Center live in Oxnard and many are Mixteco or Spanish only speaking, with limited access to transportation. This site will make services more accessible to victims of domestic violence, sexual assault, elder abuse, child abuse, hate crimes human trafficking, and other assaults.
Joining us at the Family Justice Center to celebrate were Assemblymember Irwin, Senator Monique Limon, Mayor John Zaragoza (City of Oxnard) Sheriff  Bill Ayub, County Supervisors Carmen Ramirez and Matt Lavere, Councilmember Jeannette Sanchez-Palacios (City of Ventura), Ventura County CEO Mike Powers, Oxnard Chief of Police Jason Benites, Port Hueneme Chief of Police Andrew Salinas, Ventura County Family Justice Foundation Board Members: Dr. Thomas Duncan, Billie Jo Rodriguez, Anthony Mireles, Dianne McKay, Chris Cuilty and Ventura County Community Foundation Board Members: Jack Edelstein, Lauren Graf and Catherine Sepulveda.