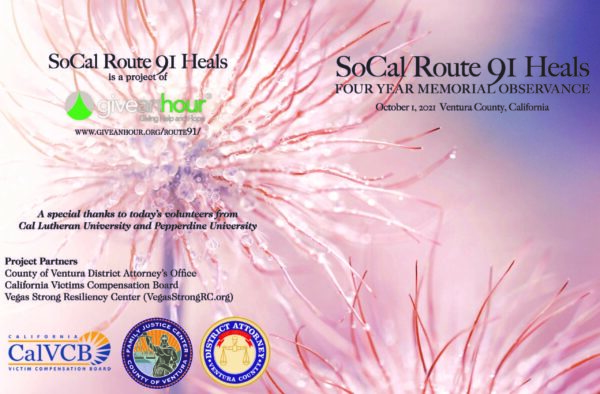 Date
Oct 01 2021
Expired!
Anniversary Memorial Observance – Las Vegas Route 91 Harvest Festival Shooting
We are honored to join with the SoCal Route 91 Heals community on Friday, October 1 to commemorate the fourth anniversary of the Las Vegas Route 91 Harvest Festival shooting. This year, a viewing of the Sunrise Remembrance Ceremony from Las Vegas will be live-streamed in Ventura County from 7:00-9:30 am. Later that day, opportunities for survivors and families to connect with peers and honor the lives taken will be held at the Conejo Creek Park North Lakeside Pavilion in Thousand Oaks from 2:00-6:00 pm.
We hope you will join in person or online for these programs. Additional information for the memorial activities and ways to connect with additional support can be found here https://vcda.us/2WpMm0l
The Ventura County District Attorney's Office, Ventura County Family Justice Center, California Victim Compensation Board (CalVCB) and Give an Hour have partnered to provide no cost services through a grant funded by the federal Office for Victims of Crime for the long-term recovery of survivors and families.