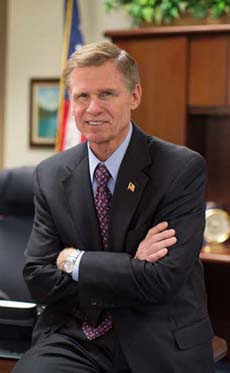 The Ventura County District Attorney's Office has a rich tradition of excellence as a tough, no nonsense, law enforcement agency that pursues justice and safety with integrity. Today your District Attorney's Office remains deeply committed to these core values even as we face extraordinary challenges and new crimes that were never imagined a half century ago.
Thankfully, our community is one of the safest in the nation and boasts several cities that regularly rank among Americas most desirable places to live. Yet we are not untouched by crime; thousands of crime victims walk through the doors of the District Attorney's Office seeking help and justice, and prosecutors file tens of thousands of criminal cases against adult and juvenile offenders each year. We also confront dramatic changes in technology that affected both the nature of crime and our approach to solving and prosecuting cases.
We have enhanced our ability to address the ever-changing face of crime, particularly those crimes involving technology and identity theft. Unlike traditional street crime, computer crime hides in the anonymity of cyberspace and uses highly sophisticated technology to exploit our children, steal our identities, and threaten our economic well-being. Fortunately, state and local funding enables us to operate a high tech task force where specially trained district attorney investigators, police detectives and civilians use cutting-edge technology to find and apprehend these predators. Through agreements with local police agencies, the Sheriff's Office and city governments, we have expanded the capabilities of this vital program to ensure that we are prepared to fight this most insidious crime.
While we celebrate the dedication and commitment of the members of this office, we also gratefully acknowledge the outstanding work of local law enforcement, the financial stewardship of the Board of Supervisors, and above all, the longstanding support of the community we serve. Please know that as your District Attorney I will continue to do my very best to preserve public trust in the justice system and protect the safety of all Ventura County residents.
Very truly yours,
GREGORY D. TOTTEN
District Attorney